Hjem
Mette Juul udgiver sit nye album CHANGE d.6 september på Universal Music.
Lars Danielsson på bas/cello, Ulf Wakenius / Per Møllehøj på guitar og pianist Heine Hansen.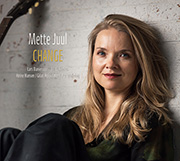 Kommende koncerter :

6-7 2019
Baltic Jazzfestival – Stemme, guitar og piano.
Duokoncert med Heine Hansen.
9-7-2019 kl 17.00
OHA – Copenhagen Jazzfestival.
20-7-2019 kl 12.00 middag.
Aarhus Musikhus – Aarhus Jazzfestival
Mette Juul v/g, Søren Bebe p, Alex Riel tr. Klavs Hovman b
21-7-2019 – Jazz på Dansk – Sorø Jazzfestival.
Mette Juul v/g, Snorre Kirk tr, Felix Moseholm b, Søren Bebe p.
–
"Juul is one of those artists who creep up on you and grow upon you and, as you absorb the melodies and the intriguing lyrics, suddenly you're in love with a voice"
Lance Liddle, London Jazznews.
"Stemmen er nærværende og troværdig"
"Mette Juul skriver rigtig gode sange"
5/6 Berlingske tidende. Kjeld Frandsen.
"Sie gilt als eine der besten Jazzvokalistinnen Europas, was ihr Auftreten und ihre warme, klare Stimme im ausverkauften Jazzclub bestätigte

" Bamberg live. (se link under anmeldelser)
"Sofistikeret på Internationalt højt niveau"
"Uanset om hun fortolker Lyle Lowetts "Moon On My Shoulder", Monks "Ask Me Now", Oscar Brown Jr's "Hum Drum Blues" eller egne sange som den bevægende "In This Life" formår hun at gøre det, så det fremstår personligt og vedkommende."
Jazzspecial
"affecting delicacy, caressing the lyrics with palpable care…"
Jazzwise UK.
"Hon kan som få förmedla ett budskap med kompositörens intentioner – ljuvt, vackert, inlevelsefullt och tekniskt skickligt."
Christer Nilsson (koncert Blue Bird jazzklub SE)
–

MAILING LISTE
Skriv din mailadresse her for at modtage mit nyhedsbrev.